Program                                                         Profiles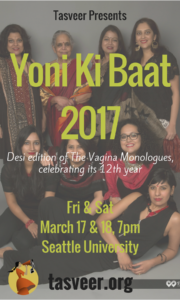 Yoni Ki Baat is a growing collection of authentic, bold, vivid, tender, powerful and poignant stories narrated by South Asian women. YKB acknowledges that female sexuality is an essential aspect of identity, experience and expression. This space transforms and encourages South Asian women to express their challenges, hopes, dreams, breakdowns and aspirations for change. Yoni Ki Baat is back for its 12th fabulous show in Seattle, directed by
Sudeshna Sathe Dixit and Gauri Shringarpure
.
Yoni is a complex word: it is used to refer to the vagina or vulva. Yet its literal meaning in Sanskrit is "sacred space" and it is a symbol for divine creative energy. Baat means talk in Hindi/Urdu. Come share this space with us and hear, see and feel the
yoni ki baat
 of Sisters.  Inspired by Eve Ensler's Vagina Monologues, Yoni Ki Baat was originally started by South Asian Sisters, a progressive collective of South Asian women based in San Francisco area in 2003. Today, Yoni Ki Baat is performed across the United States by South Asian women telling authentic, bold, vivid, tender, powerful and poignant stories.   
yoni ki baat stories
Amita: Cosmic Yoni
Supriya: Calling Venus, Calling Mars!
Sarala: Dear Life...Challenge Accepted
Ruchi: Missing Graves
Madhura: Touched by a crow
Jayanika: My big toe
Arti: A touch of Tantra
Preeti: I said nothing, I did nothing. I just stayed
Shraddha: Chrysalis