About Yoni Ki Baat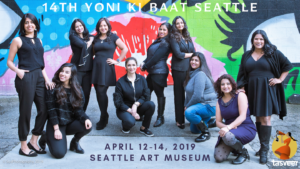 Yoni Ki Baat is a collection of authentic, bold, vivid, tender, powerful, and poignant stories written and narrated by South Asian women, trans, and gender non-conforming community members. The narratives highlight special challenges and opportunities relevant in this socio-cultural context. YKB acknowledges that sexuality and that gender are essential–and sometimes fluid–aspects of identity, experience, and expression. Under the guidance of this year's director, Jaya Ramesh, the 14th Yoni Ki Baat will be a space that transforms and encourages South Asian womxn to express their challenges, hopes, dreams, breakdowns, and aspirations for change.
Yoni is a complex word: it is used to refer to the vagina or vulva. In Sanskrit, it can also mean "sacred space" and serve as a symbol for divine creative energy. Baat means "talk" in Hindi/Urdu. Each year, YKB stories evoke the literal and metaphorical meaning of the title, and in 2019, we again invite you to come share this space with us and experience the voices of our performers, in all of their diversity.  
Inspired by Eve Ensler's Vagina Monologues, Yoni Ki Baat was originally started in 2003 by South Asian Sisters, a progressive collective of South Asian women based in the San Francisco Bay Area. Today, Yoni Ki Baat is performed across the United States and empowers participants and audiences to tell their own stories honestly and fearlessly with the larger goal of contributing to individual and community transformation. Contains Mature Content.